Some kindergartens around Mori for parents who want to send their children
Mori is a freehold development with many surrounding amenities includes MRTs, Bus stop along with plenty of restaurants and eateries offering local dishes and recipes. Nested in a peaceful District 14, the condominium is a freehold built condominium. This lovely and luxurious condominium in the Geylang area will be a 5/8 storey residential flat (includes 137 units) comprising of carpark at 1st and basement storey, communal facilities at 2nd and 6th storey, communal swimming pool at 6th storey roof terrace.
Mori Condo is located close to kindergartens within a 2km radius such as Chen Li Kindergarten (3 minutes' drive), PCF Sparkletots Kindergarten (4 minutes' drive), White Lodge East Coast Kindergarten (5 minutes' drive). ), Little Skool-House At-Mountbatten-Square, etc. Where you can refer to a few of these schools before deciding to send your children, with close proximity to the apartment, parents can save time and pick and drop their children more quickly.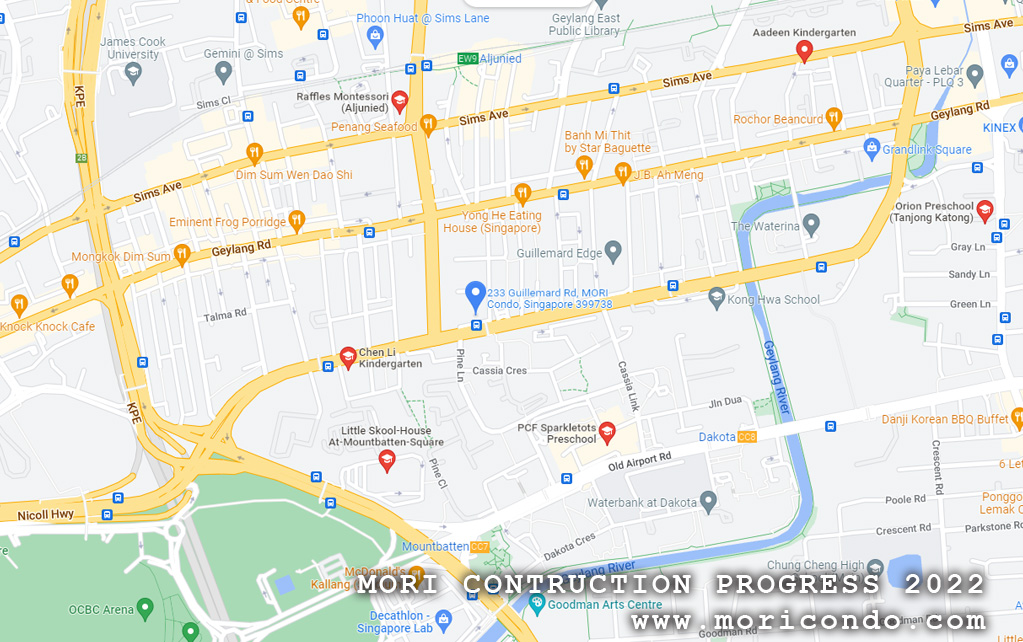 Some kindergartens around Mori for parents who want to send their children
Top 3 prestigious primary schools in the vicinity of Mori Condo
Mori Residences is expected to be completed in 2029. This prime neighborhood has exceptionally smart connectivity, walking distance from Dakota MRT station and just the 3-minutes Circle line, improving accessibility, including excellent connections to parts of the island. Besides, the address is also near Mountbatten MRT and Ajunied MRT within a short walking distance.
Owns a prime location, Mori @ Geylang is especially suitable for parents who are looking for a home to facilitate their children's learning. Mori also is very close and has a convenient transportation system to kindergartens. Therefore, Mori Condo is always noticed and welcomed by investors. Below are the kindergarten systems near the apartment that we would like to recommend for you or investors to consider and make your choice.
According to experts, kindergarten is the foundation of a child's learning journey. We want a solid start to support children's learning, preschool plays an important role in preparing children for the future. Especially in today's era when everything is changing rapidly, children's thinking and creativity need to be trained from an early age to be able to quickly adapt to new changes. Because current transformational technology is constantly evolving, early preparation for children is very necessary and should be taken seriously.
Kindly follow our website to get the the latest news of Mori condo and sign up below and have an exclusive showflat preview of the luxury condo offers!
AN EXCLUSIVE SHOWFLAT PREVIEW!!
Be Among The First To Know About Exclusive Project News And Information.