Mori Condo with Rooftop swimming pool facing Guillemard Road
The stylish and elegant Mori is located at the junction of Guillemard Road and Jalan Molek, District 14. It offers residents relaxation in a modern and spectacular rooftop swimming pool. Mori lets you soothe your senses at the Onsen Hideaway. Re-energize your mind with an invigorating swim at the Rooftop Lap Pool. Enjoy a drink with your closest friends at the Social Lounge.
READ ALSO: Recommend to Mori residents some of the exciting places suitable for indoor and outdoor activities. Click here to view!!!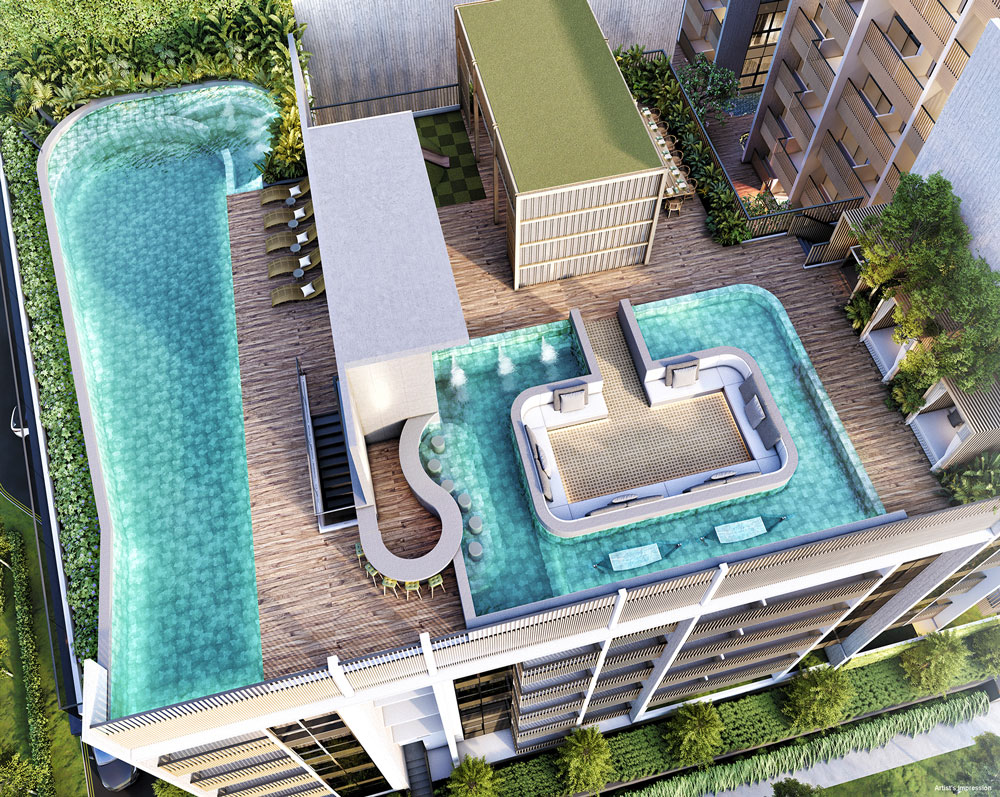 Mori Condo with Rooftop swimming pool
Located on Mori Condo 's rooftop, the pool facing the Guillemard Road from edge to edge of this rooftop infinity pool will give you sweeping views of the entire bustling District 14 during the day and peace of mind at night. Onsen Hideaway is hidden among lush gardens on the second floor. Here, residents can take a breather from the stresses of daily life. Choose between hot and cold spa and allow your mind to drift away in bliss.
Mori Residences ' Lap pool allows you to take a dip in the morning, a mid-day nap or for those who like to swim at sunset. The rooftop pool with city views is the perfect spot to recharge at any time of the day. With a length of 23 meters, you can do laps or work out for a tan for a radiant beauty like the sun. Additionally, the Mori rooftop pool is for residents. About Social Lounge, get into your favorite #holidaymood at the Social Lounge. Here you can invite your friends, share some bubbly, and cheer for all that is worth celebrating in life. #beachvibes in the city #lifeisgood.
Summary facilities at Level 6 of Mori Singapore around this large swimming pool include Wellness Pool, Sun Loungers, Social Lounge, Bubble Pool, Pool Lounge, Hammock Pool, Play Pool, Pool Cabana, Grill and Dine Pavilion, Social Dining, Kids' Creative Play. Surrounded by tropical trees and verdant greenery, just like you are on an idyllic, romantic resort getaway.
Don't forget to follow our website to get the the latest news of Mori condo and sign up below and have an exclusive showflat preview of the luxury condo offers!
GET VVIP DISCOUNT VIA BELOW FORM
Sign Up Now For An Exclusive VVIP Preview And Enjoy Exclusive Discounts of Mori Condo