MORI close to the heart of Singapore's CBD (Central Business District)
Mori is next to Guillemard road with plenty of choices at your doorstep, close to the heart of Singapore's CBD (Central Business District) and proximity to different parts of the city by several MRT stations. This condo 's only a 6-minute walk from nearby MRT stations like Aljunied (EW9) or Dakota (CC8). Also close to major highways, East-West links, Inter-Island Expressway and Southern Expressway. It is only 5 km from the Central Business District (CBD) and 7 km from the International Airport. Especially, Guillemard Road is the main road connecting to the Pan-Island Expressway (PIE) and provides easy access to other areas.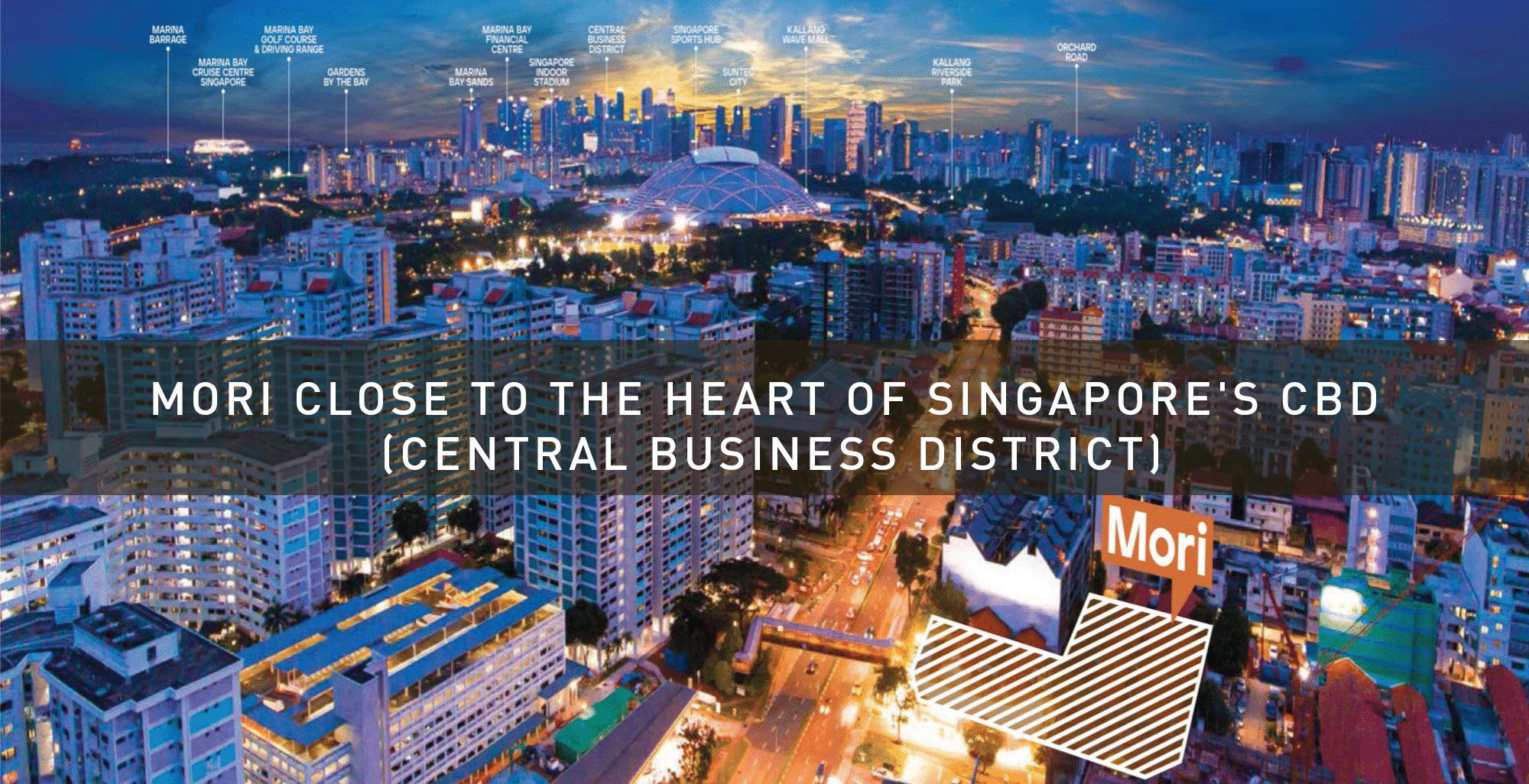 MORI close to the heart of Singapore's CBD (Central Business District)
Discover interesting places and community facilities around Mori right at Lifestyle. The suggestions in this section may be of interest to you!
Mori Condo owns an excellent location at less than a 10-minute walk to Mountbatten, Dakota, and Aljunied MRT stations. This freehold development will perfectly meet your active lifestyle needs with everything nearby. Situated at a strategic location mere minutes from Singapore's thrilling cityscape, MORI perfectly meets your active lifestyle. Let's check out what's to enjoy and the nearby amenities when living in Mori.
Explore other interesting attractions around Mori!
In the not too distant future, MORI property owners will enjoy the privileges of living near the CBD and Paya Lebar Central Mall in the future. So, living here means enjoying a luxurious, comfortable lifestyle and ensuring a better future. With an advanced transportation network, residents can easily reach all parts of the country. Living here means less traffic, convenient transportation, quick access to the center and neighborhood amenities and facilities.
Finally, Mori Residences will be the convenience that you will enjoy when you choose to live here. You will have easy access to your workplace, for example, Paya Lebar Square and the CBD. Getting around Singapore is also very easy as all places are well connected by bike, car, metro or even air. Only minutes to City and Center. This will be a very convenient new space for business, industry, research and development, learning and innovation.
Don't forget to follow our website to get the the latest news of Mori condo and sign up below and have an exclusive showflat preview of the luxury condo offers!
GET VVIP DISCOUNT BY A CLICK
Sign Up Now For An Exclusive VVIP Preview And Enjoy Exclusive Discounts of Mori Condo