Discover The Outstanding Elements Of Mori Condo Before You Want To Invest In It
Nestled on Guillemard Road, Mori is a beautiful Freehold project just minutes from East Coast Park. With a prime location in District 14, the project offers excellent value for money. With a harmonious design featuring a shared balcony with breathtaking views of the West Coast Park and surrounding hills, it also offers a 24-hour concierge service to meet all your needs. Additionally, the project is close to major shopping centers and is also within walking distance of major bus stops such as Mountbatten Underground Station, which serves both the East Coast Park and Mountbatten Village shopping complexes, as well as other major shopping complexes in North East Singapore.
Discover interesting places and community facilities around Mori right at Lifestyle. The suggestions in this section may be of interest to you!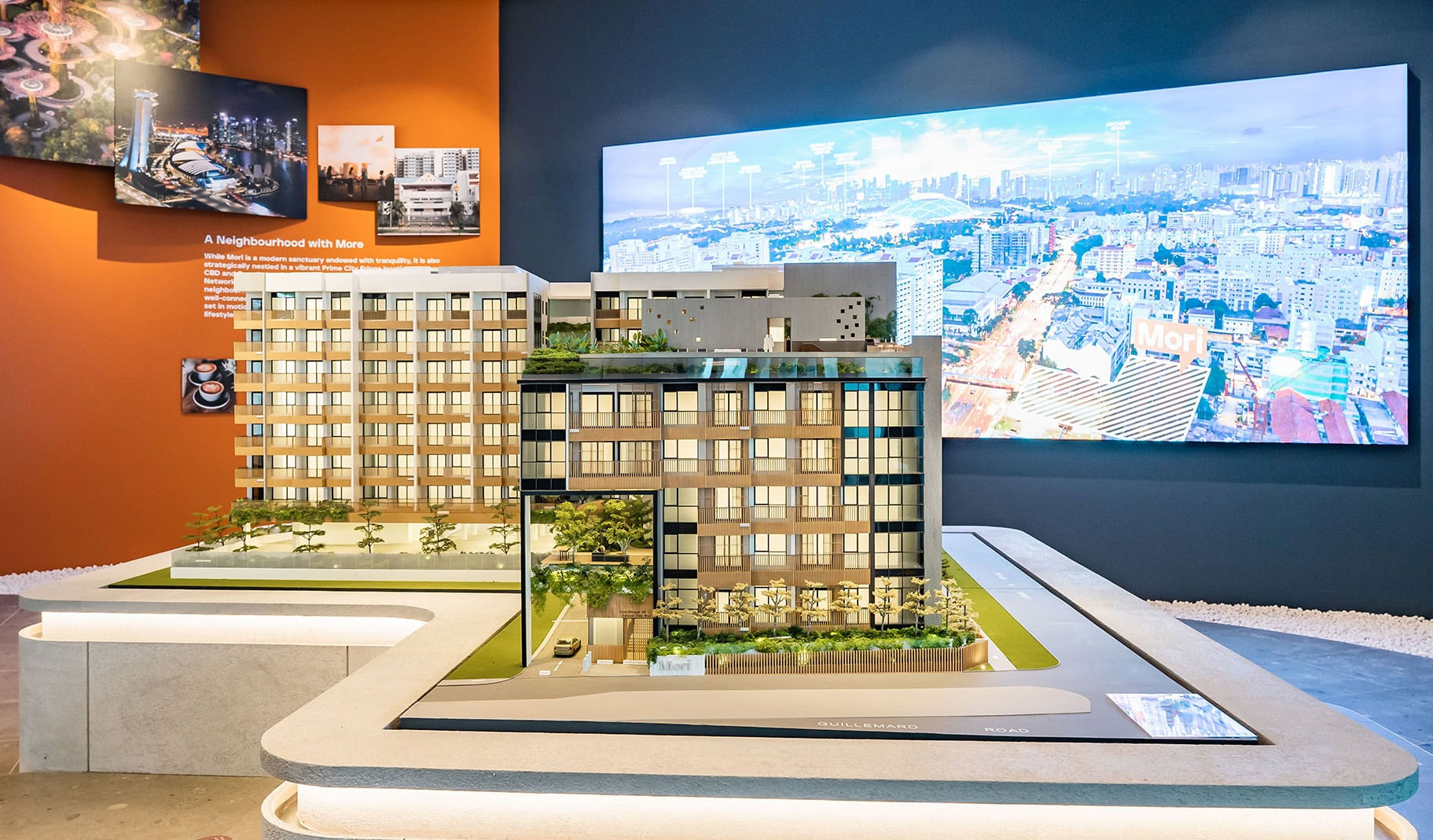 Mori Condo Facade (Showflat) - Perspective and simulation model of the whole project.
Explore other interesting attractions around Mori!
What is Mori's good connection? Located right at the convenient address at Guillemard Road
The best and most impressive part about Mori Condo is the location it is located in. This project is close to many famous local and international schools, MRTs and Expressways, its residents will easily take advantage of important amenities and travel from one place to another without encountering any problems. any trouble. By investing in an exclusive apartment, residents will have the privilege of living in a beautiful and vibrant community, surrounded by exceptional facilities such as basement parking, swimming pool and garden above. roof. More specifically, it is only about a 10-minute walk from Mountbatten MRT station, serving the Circle Line, and Aljunied MRT station serving the East-West Line. Along with numerous shopping malls, theme parks and City squares, the apartment complex offers the ideal opportunity for homeowners and investors looking for affordable real estate. Each apartment is thoughtfully planned with modern design and advanced home technology, giving the apartments a luxurious and elegant look.
Mori Condo Location Map - Location of MRT within 1km around this apartment.
Is investing in Mori Condo a good choice for you at the moment?
You can find Mori Residences located in the highly sought-after area of ​​District 14. Developed by Roxy Pacific and it will offer 2-3 bedroom, 2-3 bathroom apartments with prices ranging from 700 USD to $850/m2 depending on the area of ​​the premises. The apartment can be purchased separately or as part of an "all-inclusive" package, which includes an air-conditioned apartment with a total of 4 bedrooms and 4 bathrooms, plus 2 parking spaces.
Some people will be interested as to how they can buy an apartment like Mori, then this might be what you want to know right now. Mori apartments are presented as two-story houses or one- and two-story houses. They can be located in your own home or on a property shared with other owners. Finding an apartment is not difficult. You just need to find the right developer who will then show you the mori apartments and answer your questions about them. But how do you know if it's the right developer for your needs? The best way to find an apartment is through an independent agent that specializes in buying and selling apartments. With agents you can rest assured that you will get a good deal and the agency will make sure that all of their clients get good deals as well.
Don't forget to follow our website to get the the latest news of Mori condo and sign up below and have an exclusive showflat preview of the luxury condo offers!
GET VVIP DISCOUNT BY A CLICK
Sign Up Now For An Exclusive VVIP Preview And Enjoy Exclusive Discounts of Mori Condo